What YOU can do to help wildlife TODAY/SOON
Take Action to STOP the River Vale (NJ) deer hunt (14 June 2019)

If you are a resident of New Jersey -- especially Bergen County -- please sign this petition calling on the River Vale Mayor and Council not to pass Township law that would allow deer hunting on River Vale golf courses and town owned land: https://www.change.org/p/glen-jasionowski-stop-the-river-vale-deer-hunt

The petition has been started by the League of Humane Voters of New Jersey who are urging the use of non-lethal solutions to resolve wildlife conflict situation.
---
URGENT APPEAL for New Jersey residents to call Governor Murphy (12 June 2019)

Please call Governor Murphy at 609-292-6000 and ask him to VETO deer killing bill S2419/A3242

Unexpected Wildlife Refuge is supporting Animal Protection League of NJ with this campaign. S2419/A3242 has been passed by the Senate and is now on the Governor's desk waiting for his signature. This Bill expands the cruel and unethical methods typically used by poachers. It expands killing and wounding methods for deer and other wildlife including: Killing animals directly over bait at point blank range; killing deer any time of day or night; shooting deer from moving vehicles, and jacklighting, or stunning deer with strong lights.

It also includes the "Multi-Species Depredation" Permit - permits issued by the Division of Fish and Wildlife that "authorize agents of the owner or lessee, to kill any animal of a species listed in the permit which is on the land and known to cause crop damage". This could apply to a variety of species.
---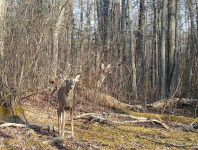 Support rally to stop deer bow hunts in Bergen County, NJ (5 June 2019)

League of Humane Voters of New Jersey is holding a rally for humane deer management in Bergen County. The event will take place outside a presentation held by New Jersey Division of Fish and Wildlife (DFW) to promote bow hunting and to be attended by mayors and council members.

The rally is to be held:
Wednesday, June 5th 2019
6:15 PM - 7:15 PM
Englewood Court Room
73 South Van Brunt St., Englewood, NJ 07631

Further details: https://www.facebook.com/events/1040869169636726/

Local action is crucial to stop these cruel hunts. Recently River Vale, NJ, postponed a final decision on whether to allow a proposed deer bow hunt to take place following opposition by local residents.

If you do not live in Bergen County but want to help with the campaign to stop deer hunting in other towns in NJ, please write to: info@lohvnj.org
---
Urgent appeal to New Jersey residents about proposed deer bow hunt in River Vale (19 May 2019)

A final decision on whether to allow a proposed deer bow hunt to take place this year in River Vale, NJ, has been postponed until the end of May to allow residents to express their opinion on the issue. This postponement follows a recent council meeting at which around 60 residents attended to express their opposition. Calls for non-lethal means of deer control such as sterilization and relocation have been rejected by the local Council as not acceptable by the State Fish & Game Council. Instead, the proposal is to allow the hunting of deer with bows and arrows. Such a method is inhumane and cruel and likely to result in lengthy suffering to the animals.

Even if you do not live in River Vale, please contact the Mayor and Council as soon as possible, urging them to not allow the bow hunt, but to instead adopt non-lethal means to control the deer population. If you know of people in River Vale, please ask them to write. It is crucial that the Council is aware of the strength of local opinion on this issue.

Write to Mayor Jasionowski and Council Members:
For recent media coverage: https://thepressgroup.net/river-vale-council-pauses-in-considering-deer-bow-hunt/
---
New Jersey residents (12 April 2019)

You have an opportunity to help end barbaric wildlife killing contests in your state (others should sign, too, to show their support). Please read this petition, sign it and share widely:
https://www.change.org/p/nilsa-cruz-perez-end-all-new-jersey-wildlife-killing-contests?recruiter=422160762&utm_source=share_petition&utm_medium=email&utm_campaign=share_email_responsive&recruited_by_id=f2ef73a0-869b-11e5-8a62-576ff2788361
---
New Jersey to allow snow goose hunting during February-April 2019 (27 February 2019)

The New Jersey Division of Fish & Wildlife is to implement a "Spring light goose Conservation Order" that allows the hunting and killing of this migratory bird. 'Light goose' is the collective name applied to greater snow geese, lesser snow geese and Ross's geese. (See end of last paragraph for what you can do.)

The Migratory Bird Treaty Act of 1918 established Federal protection that prohibited, unless allowed by regulations, to hunt, capture and kill migratory birds. However, since spring 2009, many Atlantic Flyway states, including New Jersey, have implemented a Conservation Order (CO) for light geese. A CO is a special 'management' action, authorized by the Migratory Bird Treaty Act, and is used to control a wildlife population when traditional management programs are deemed unsuccessful in preventing 'overpopulation' of a species. (See our wildlife Myths page for why the issues of 'management' and 'overpopulation' are ridiculous and extremely inhumane concepts.)

Other states to hold similar hunts this year are Delaware, Maryland, Vermont, New York, North Carolina, Pennsylvania and Virginia.

The Conservation Order allows an extended time period outside of traditional hunting seasons as well as additional methods for hunting these birds without bag limits; including the use of electronic calls, unplugged shotguns, and extended hunting hours up to 1/2 hour after sunset.

Snow geese breed in Greenland, Arctic North America and Siberia -- some migrate south in the autumn to spend the winter on the Atlantic coast of the USA. Snow geese often spend their winters at Unexpected Wildlife Refuge. The arrival of a flock of noisy snow geese at the Refuge is a welcome sight. Snow geese usually live in very large flocks; pairs mate for life and create very close bonds with each other and their young. Families remain together through the youngs' first winter and can be identified as groups during both the southern and northern migrations. It is appalling to know that in New Jersey, and other states, members of these close families can be randomly blasted out of the sky. We do not know what can be done to prevent this, but you could contact the New Jersey Division of Fish & Wildlife and voice your objection so that at least they know not everyone agrees with their 'management' decisions. Contact information is here: https://www.state.nj.us/dep/fgw/contact.htm.
---
Challenge to New Jersey bear hunt rejected by court (13 February 2019)

A challenge to New Jersey's bear hunt has been rejected by a state appeals court. The challenge, brought by the Animal Protection League of New Jersey, The League of Humane Voters of New Jersey as well as several individuals, was an attempt to stop the implementation of amendments introduced in 2015 that added a second annual hunt in October to the existing hunt in December, allowed bow hunting and increased the number of hunting permits.

Angi Metler, executive director of the Animal Protection League, told the New Jersey Herald: "Non-lethal black bear conflict management is key and the future, no matter what the courts say," she continued. "We're not giving up until that day arrives."

Bear hunting in New Jersey was reintroduced in 2003. In 2018, 140 bears were killed in October and 85 in December. Governor Phil Murphy made a promise to impose a moratorium on bear hunting when he took office, but has failed to deliver. To date, he has stopped bear hunting on public land only. Bears can still be tormented and killed on private land.

The annual slaughter of these majestic and sentient animals must end.

Please continue to call (609-292-6000) and tweet Governor Murphy urging him to end bear hunting on all lands in New Jersey (@GovMurphy promised to cancel the #bearhunt).

For further information: https://www.njherald.com/20190213/appellate-judges-reject-challenge-to-archery-expansion-of-bear-hunt
---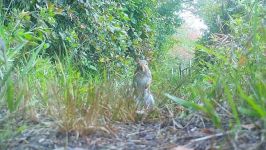 Protest the squirrel killing contest in New Jersey (9 February 2019)

Winslow, New Jersey, is allowing a squirrel killing contest. Billed as the "First Annual Family Squirrel Classic", it is giving trophies and prizes to those, including children, who kill the most squirrels. This brutal and inhumane 'event' is scheduled for Saturday 16 February 2019.

PLEASE take time right now to voice your objection to this systematic slaughter of squirrels. Here is what you can do:
Write and call the Winslow mayor and committee members:

Phone: 609.567.0700; leave a message if you have to; but also E-mail everyone (see below)

Attend the protest scheduled by Animal Protection League of NJ; for more information, click here

When: Saturday 16 February 2019 from 6:30 - 8:00 AM EST
Where: Inskip Antler Hunting Club, 729 Piney Hollow Road
---
Stop the killing of deer in Essex County Parks (26 January 2019)

Please sign and share this petition to stop the killing of deer in Essex County Parks (South Mountain, Hilltop, and Eagle Rock Reservations), New Jersey and instead adopt humane methods to deal with wildlife-people conflict and population control. The petition has been started by the League of Humane Voters, New Jersey.

White-tailed deer are one of the most easily recognized wildlife species in New Jersey; many of whom live at Unexpected Wildlife Refuge. Sadly, they are also one of the most persecuted species, cruelly hunted and killed with bow and arrows, shotguns and muzzle loading rifles.

Access the petition here: https://www.change.org/p/joseph-divincenzo-south-mountain-s-lethal-deer-policy-is-failing-it-s-time-for-change
---
Call for an end to the deer slaughter in Texas (22 January 2019)

Land's End, a residential community in East Texas, has started to trap wild deer in nets to be taken away and slaughtered. Deer are highly nervous animals and prone to stress and shock during capture. This is an inhumane way to address human-wildlife conflict. We urge the Land's End Homeowner's Association to stop this cruelty and instead to adopt humane methods.

Please write a polite message to the Board of the Land's End Homeowner's Association: http://www.landsendhoa.org/contactus/contact-hoa/ (their Web site is: http://www.landsendhoa.org/)

They also have a Twitter and Facebook accounts:
---
We and the coyotes who call our Refuge home urge you to sign this petition to stop extreme cruelty to coyotes in Wyoming (18 January 2019)

Wyoming allows 'yote whackin', a cruel and brutal practice that includes coyote killing contests and the chasing and killing of coyotes with snowmobiles. Coyotes are hunted all year in Wyoming. Considered a predatory animal in the State, no license is required to hunt them.

Please support the effort to protect coyotes in Wyoming. Sign the petition and write to the Governor of Wyoming (governor.elect@wyo.gov). Further details can be found here: https://www.change.org/p/end-brutal-coyote-whacking-in-wyoming?fbclid=IwAR0YXNUKHBIFb1ufZt2VNj-wprNE_p_4SbNAz2RAuNwv05ja18GHn726yPA