Unexpected Wildlife Refuge is a protected natural habitat comprising 767 acres of pristine pine lands, forest, fields and bogs. It provides a refuge to animals and plants indigenous to southern New Jersey; a place where wildlife can live freely and naturally without fear of being harmed at the hands of human beings. We began as the home of Hope Sawyer Buyukmihci and Cavit Buyukmihci, who dedicated their land to habitat preservation so that native wildlife and habitat could thrive. We are a not-for-profit 501(c)(3) entity, federal ID 23-7025010.
Read more
---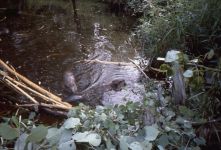 Visiting Unexpected Wildlife Refuge
Visitation by appointment only

To schedule a visit, call us at 856.697.3541 or send an E-mail message. Each adult visitor is required to sign a waiver of liability, which you can download here, prepare and either return to us via E-mail (preferred; we will then have it ready for you to sign on your arrival) or bring with you. Please review our visitor guidelines below. Our guided tours can cover some of or all the ten miles of trails that wind through the Refuge property. Educational and reference materials are available to visitors at the Nature Center. Except for the trails, the land is left essentially undisturbed so that animals and plants can thrive based on habitat and food suitability dictated by nature. Bluebirds, a favorite of our founders, nest in the Refuge, some of whom winter over, feeding on cedar berries deep in the swamps. Beavers are much celebrated inhabitants, but usually only can be seen at dusk or dawn.
Visitor guidelines
Groups should be relatively small, ideally no larger than six people, including one responsible adult.
Carpooling is a requirement to the extent feasible. This is not only because we have limited parking, but, more importantly, because of the negative impact cars have on the environment.
People should stay with their group so as not to get lost.
All visitors must stay on trails. There are many sensitive areas, special plants, nests and wetlands throughout the land. When you arrive, you can ask the manager to show you our sign that depicts the various trails so that you can take a photo on your phone to use. Alternately, you can download a copy of the sign here.
Food and beverages may be brought for a picnic (tables are available), but must be vegan and containers should be recyclable.
No littering of any kind is permitted.
If you are visiting to help us patrol during hunting 'season', we will provide you with the latest copy of our rules for patrollers. Alternately, you can download the latest version here to use on your phones.
Cameras, sketch boards, sound recorders, video cameras or other recording devices that are not intrusive are welcome. All we ask is that you share the efforts of your experience with us.
Behavior that may frighten animals, such as roughhousing, making loud noises or attempting to touch or pick up animals, is not permitted.
No climbing of trees is permitted.
No collecting of anything, such as antlers, feathers and so forth, is permitted. Those items belong to the wildlife.
No smoking or fires of any kind is permitted.
Our lavatory facilities are primarily through an outdoors toilet.
In warmer weather, be prepared to be sought after by various arachnids and insects who will view you as an easy source of food. Dress appropriately in light-colored clothes (for ease of spotting ticks), tuck pants into socks, wear sturdy hiking or mud boots and bring environmentally friendly 'insect' repellent.
Visitors must not be under the influence of alcohol or other mind-altering drugs.
---
Waiver of liability
The Refuge requires that each adult visitor fill in, sign and submit a one-time liability waiver form in order to gain access. If children are involved, they can be listed on the form of the adult who is taking responsibility for them. This waiver is intended to educate visitors about the risks inherent in any wildlife refuge as well as providing protection for the Refuge.

Our hope is that you will, as a potential visitor, download, fill in, print (double-sided if possible in order to reduce paper use), sign and date the form so that you can bring it with you in order to expedite your visit and make our record-keeping easier. Alternately, you can fill in the form, save it and then E-mail the filled in form as an attachment to us at manager@unexpectedwildliferefuge.org and we will have it printed and ready for you to sign and date upon your arrival.