Unexpected Wildlife Refuge is a protected natural habitat comprising 767 acres of pristine pine lands, forest, fields, bogs, streams and lakes. It provides a refuge to animals and plants indigenous to southern New Jersey; a place where wildlife can live freely and naturally without fear of being harmed at the hands of human beings. We began as the home of Hope Sawyer Buyukmihci and Cavit Buyukmihci, who dedicated their land to habitat preservation so that native wildlife and habitat could thrive. We are a not-for-profit 501(c)(3) entity, federal ID 23-7025010.
Read more
---
Unexpected and Me
Paula Dean, National Park, April 2011

One day I got a phone call at work from my friend's employer since I was her emergency contact, and she hadn't come to work that day. I called Maureen's house and received no answer. Expecting the worst, I drove over to her house and although everything seemed normal, there was no sign of her. Then I saw a card with Unexpected Wildlife Refuge on it. I remembered Maureen told me about the refuge, Hope and "hunt patrol." I called the refuge and Maureen answered. Apparently someone at her school had forgotten to note that Maureen had the day off.

I thought hunt patrol must be really important for her to use a precious day off. I was intrigued and planned on joining the next hunt patrol. That was probably 20 years ago.

Nothing I heard about Hope prepared me for meeting her. Here was an elderly woman, dressed in an old plaid jacket with a babushka on her head, with more energy and feistiness than I had ever encountered in anyone of any age. As she sat in her truck at Station 6 on the lookout for poachers, she got caught up on all the goings-on of the animal rights movement. She loved hearing stories about civil disobedience to further the cause and found great humor in the most bizarre stories. She'd giggle like a little girl and ask for more.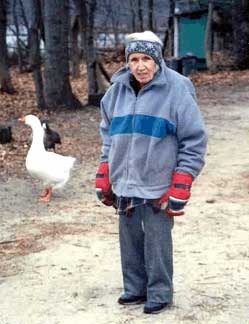 After that first hunt patrol, I was hooked and started coming to the refuge for clean-up and trail maintenance days. Many people were recruited to help and they came – once. Hope was a dynamo with a to-do list that would kill the average person. After trail maintenance, she would have us mowing blueberry field or plowing the garden or tilling the soil in poplar patch or repairing dikes. It was a never-ending job, and Hope was a woman in her 70's and 80's running it all by herself.

Hope's energy was matched only by her passion – her passion for all living things. Hope has gone on but her legacy will live on forever.

Thank you, Hope.