Beaver Tales from Unexpected Wildlife Refuge, April 2018
Here is our latest newsletter to keep you informed about just a few of the activities and issues concerning Unexpected Wildlife Refuge. For those of you who follow us on Facebook or regularly visit our News page on our Web site, some of these items may be redundant, but are repeated here for others.

You can see enlarged versions of almost all images in our newsletters by simply clicking on the provided thumbnail copies.
---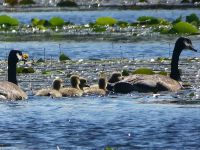 Unexpected Wildlife Refuge seeking new manager
If you or someone you know is interested in rewarding and challenging service to wildlife in New Jersey, please send the following by E-mail only, to Nedim C. Buyukmihci, president, info@unexpectedwildliferefuge.org: 1) letter explaining why you would be the ideal candidate; 2) full curriculum vitae (an expanded résumé); and 3) full contact information for at least three people who can critically vouch for your commitment to wildlife or non-human animals in general, abilities, reliability and honesty (at least one of the people must be your most recent or current employer). The successful candidate will be a vegan or a vegetarian committed to becoming vegan shortly after hiring.
---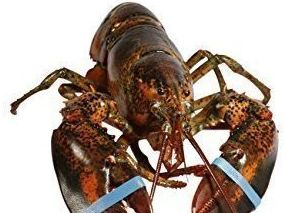 Amazon continues its inhumane behavior
We reported in February 2018, that Amazon is selling live lobsters and shipping them through the mail. Despite public protest, Amazon refuses to stop this immoral practice. Please join us in continuing to boycott Amazon until it develops and acts on a policy that dictates the humane treatment of animals. We urge you to write to the CEO at his personal E-mail address:
Jeff Bezos, Amazon's CEO: jeff@amazon.com. Voice your strong objection to his allowing live animals such as lobsters to be shipped through the mail as if they were a pair of socks and tell him that you will boycott Amazon until they stop.
If you have an account with Amazon, please close it, explain why and let Bezos know.
You can go to our wildlife myths page for the scientific evidence on the ability of crustaceans such as lobsters to feel pain and suffer.
In the meantime, if you would like to purchase and donate the items we had listed on Amazon through a different source, we encourage you to do so. Here is a list of things we could use; if you have any questions, please let us know (E-mail: manager@unexpectedwildliferefuge.org or telephone: 856.697.3541):
Legal size (8.5 x 14 inches) laser gloss paper (a couple reams would be appreciated)
Replacement color toner cartridges for our Xerox Phaser 6500 printer
SanDisk Ultra 16 GB Class 10 SDHC memory cards
Maasdam Pow'r Pull cable puller ('come-along', winch), 2 ton capacity
Reciprocating saw blade set by DeWalt (DWA4894)
Black & Decker 20 volt cordless drill, driver and saw kit (BD4KITCDCRL)
---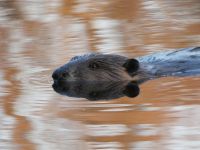 Beavers more active in main pond
As the weather warms, one local beaver family is becoming active and making their presence known in the main pond at the Refuge. The beavers can be seen making frequent evening forays, from their lodges hidden on the far side of the water, past the cabin, crossing the boardwalks into the wetlands and back. Perhaps they may be foraging for water lily tubers. We were able to get a nice close-up of this individual during one of the trips. The rust-colored appearance of the water was due to light reflection near sunset.
---
Juvenile bald eagle appears at main pond during a blustery day
Seeing bald eagles frequenting the main pond and surrounding areas is always exciting. We watched this youngster who used a partially submerged stump as his base while he flew over the pond in search of piscine food. You can see the effects of the unusually windy day on his feathers and the water surface.
---
Visitor captures the beauty of Unexpected in photos
We hope you will enjoy this selection of beautiful photographs taken at the Refuge by Jeff Hrusko, who volunteered during the final weekend of our 2017-2018 deer patrol season. One shows the beaver lodges in the main pond, another the pond as it appears through shoreline reeds and the third a dead pine trunk. Although we refer to trees like the latter as 'dead', nothing could be further from the truth with respect to life in general. These trees are a critical part of the ecosystem, providing rich and vital homes for many of the animals and plants living at the Refuge.
| | | |
| --- | --- | --- |
| Beaver lodges | Main pond | Dead pine |
---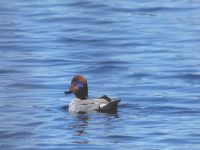 Green-winged teal, an unusual sight at the Refuge
Although green-winged teals are common in North America, for reasons unknown to us, they do not seem to travel to the Refuge very often. Despite many years of observing the various water birds visiting the main pond, we had not seen any of these smallest of dabbling ducks... until last March, when this lone male was spotted paddling about in the main pond. It may be that the Refuge does not have exactly the kind of aquatic plants and invertebrates this species likes, for this guy left after one day. Of course, he might have left to find other habitat in search of a mate.
---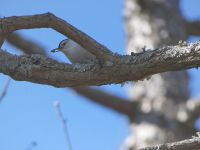 White-breasted nuthatches near the trails
People frequently mistake white-breasted nuthatches for small woodpeckers because of the similar head-down appearance and agile movements along tree trunks. Nuthatches will use the nooks and crevices in trees to hold fast a nut which they will then repeatedly strike with their bill until the nut cracks open. Here, a nuthatch holds the contents of a recently cracked nut.
---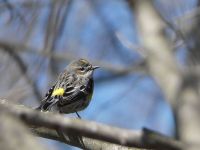 Yellow-rumped warbler 'sat' for this portrait
The yellow-rumped warbler moves quickly and a brief glimpse of a light-brown-and-yellow flash is all a person may see. Although getting a good photograph can be difficult, we were able to get one when this female warbler rested 'too long' in a nearby small tree.
---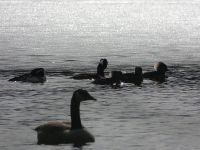 Canada goose and mergansers backlighted by setting sun
This lone Canada goose was swimming alongside a group of hooded mergansers in the main pond. The sun was setting, providing a shadowed appearance in the photograph.
---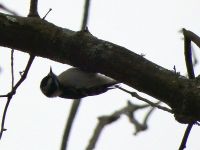 Downy woodpecker on the swamp trail
It can be very difficult to tell if one is looking at a downy or a hairy woodpecker because each is similarly colored. Although their difference in size is helpful, without a reference point for comparison, the relatively diminutive nature of the downy may not be evident. The bill, however, is one giveaway. That of the hairy woodpecker is almost as long as the diameter of the head whereas the bill in the downy is considerably shorter, as seen in this photo.
---
Ring-necked ducks, unusual visitors
Our first thought was that these individuals were lesser scaups, but a pair of binoculars showed them to be ring-necked ducks. Although not a rare species, this may be only the second time they have been spotted at the Refuge in several years. Ring-necked ducks generally breed farther north, mostly in Canada. Their visit was apparently just a stopover on their way to breeding areas and they were gone after several days.
---
A selection of jelly fungi
Although not as dynamic as the animals who live at the Refuge, fungi are an important part of the biodiversity cherished and protected here. Some of our favorites are known as jelly fungi. The amber jelly roll pictured here is sometimes called witches' (or witch's) butter. The wood ear or tree ear fungus in the other photo, with a drop of rain clinging to it, grew after a recent rainfall.
---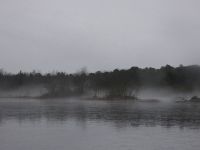 Gorgeous morning fog after an unseasonably warm evening
Early one morning in February, the main pond was partially shrouded in heavy fog following unseasonably warm weather the previous day. As the fog lifted, we were able to take this photo. Pictured in the mist are some of the tiny islands of earth and vegetation scattered throughout the pond. These islands are favored resting places for many Canada geese.
---
Eastern phoebe looks down at photographer
This eastern phoebe was perched in a tree as sunset approached. Rather than take flight as we walked nearby, he or she seemed intrigued and remained still long enough for this photo to be taken.

(Image no longer available)
---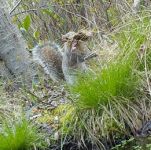 Support us using Humble Bundle
Humble Bundle is a distribution platform selling games, ebooks, software and other digital content. When you purchase from their site using our partner page, the Refuge gets a percentage of the sales price. If you are planning on buying electronic media of this type, check out Humble Bundle to see if you can get what you want and help the Refuge at the same time.
---
The wildlife living at the Refuge need your help
As part of the vital and globally unique ecosystem that is the Pine Barrens, the Refuge is home to more than 40 endangered and threatened species. Please make a pledge to sponsor a Refuge habitat or choose to support one of the species of animals who call this protected land "home". You can easily do this through an automatic monthly PayPal donation. Either go to our Web site and choose the DONATE link at lower left or go directly to the page that has the monthly subscription link at the top.

Here are the choices you will have:
Wetland habitat: $30.00
Pine forest habitat: $25.00
Bald eagle: $20.00
Beaver kit: $15.00
River otter: $15.00
Eastern box turtle: $15.00
Red fox: $10.00
Your personal favorite: $20.00
All habitats and animals: $60.00
| | | |
| --- | --- | --- |
| Muddy Bog | Bald eagle | Beaver |
| River otter | Eastern box turtle | Red fox |
---
Helping wildlife and the Refuge in the future
We remind you to please remember Unexpected Wildlife Refuge when planning your will and estate. It is an easy, effective and lasting way to help the Refuge... and wildlife. When talking with your estate planner, just provide them with our name, address and tax identification number (23-7025010). This is one of the most important gifts the Refuge can receive. If you have already included us in your future plans, thank you!
---
Our newsletters are the result of a team effort involving people dedicated to protecting wildlife in general and furthering the Refuge in particular:
Nedim C. Buyukmihci, story contributor and editor
Linda Buyukmihci-Bey, copy editor
Unexpected Wildlife Refuge
Mailing address: P.O. Box 765, Newfield, NJ 08344-0765
Web site: http://unexpectedwildliferefuge.org/
E-mail: manager@unexpectedwildliferefuge.org
Telephone: 856.697.3541
Facebook: https://www.facebook.com/UnexpectedWildlifeRefuge
Instagram: https://www.instagram.com/Unexpected_Wildlife_Refuge/