Beaver Tales from Unexpected Wildlife Refuge, August 2016
Here is our latest newsletter to keep you informed about just a few of the activities and issues concerning Unexpected Wildlife Refuge.
---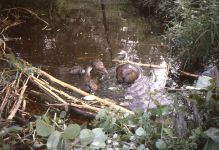 Working cooperatively to solve beaver 'problems'
In June, we were contacted by a representative of Vianini Pipe in Whitehouse, NJ, who had been tirelessly reaching out to many resources before calling us for help. Two months previously, a family of beavers had moved into a holding pond behind the company's concrete pipe manufacturing facility. The pond was scheduled to be drained and dredged due to New Jersey Department of Environmental Protection regulations and the company wanted to protect the beavers. We are grateful to Vianini for contacting us for advice instead of allowing a trapper access and permission to kill the young beaver family. When we spoke last, Vianini had agreed to hire a licensed, experienced person to use humane live traps to relocate the beaver family to an organic apiary in northern New Jersey. Though moving beaver families is not ideal and can cause considerable stress to the animals, relocation appeared to be the only solution in this situation. We believe the landowners and all involved in the relocation effort will work diligently to try to assure success. This is a great example of how businesses, homeowners and townships can be better neighbors to wildlife.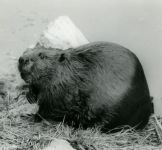 If you follow us on Facebook, you may also know that in May, a homeowners association called us about a family of beavers who had moved into a pond behind a housing development in Mullica Hill, NJ. Homeowners had complained out of concern that the beavers would cause problems, even though no problems had yet been identified and the beavers were at least half a mile from the closest backyard. Nevertheless, we immediately took action and drove to Mullica Hill with plans for installing a simple drainage system for a modest beaver dam in the woods behind and downhill of some residences. After evaluating the situation first hand, we decided that nothing needed to be done at that time. The president of the homeowners association was very cooperative and promised to contact us if and when we might be needed. In June, he informed us that the beaver family had moved out of the area.

There is an important lesson here in terms of not overreacting to the presence of beavers: beavers move. Sometimes they run out of food or find that which is present undesirable. Some young beavers and others are 'transient', settling down briefly before finding a 'permanent' home. Regardless, animals other than human beings belong here as much as we do. They need the same things we need: a home, food and security for their families. And, most of the time, if we stop interfering, relax and wait, they work things out just fine on their own, in ways that no longer pose a 'problem' for us.
---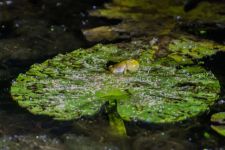 Northern cricket frog
This tiniest frog, the northern cricket frog, was proclaiming his territory in a disproportionately (to his size) LOUD call from a lily pad in the main pond at the Refuge. Endangered and a species of concern in three states, these frogs are small enough to fit on a silver dollar with room to spare. Sensitive to environmental pressures, they are harbingers of good water quality. We took this photo in total darkness with a flashlight and a 600 mm lens from shore and were very happy when the little one 'decided' to inflate and vocalize for the camera.
Photo by Cliff Compton.
---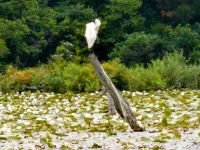 Great egrets at the Refuge
We were thrilled to see this great egret perched on a tree stump in the main pond recently. Breeding pairs have come to the Refuge this season, adding to the richness of the bird life present. If you look closely, you can see the long, wispy feathers that are the egret's breeding plumage. We are always in awe of the wonderful diversity of fauna (and flora) who consider the Refuge their home.
---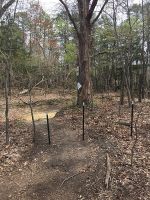 Update on invasion of the Refuge by people on all terrain vehicles and dirt bikes
We thank all who contributed to our GoFundMe campaign to protect the Refuge from all terrain vehicle and dirt bike intrusion. Our plan was to build or install natural trail barriers to protect the Refuge. We initially anticipated using boulders because of their immovability. These are very expensive to purchase and place. We learned later that we might be able to obtain large tree stumps from agencies dealing with their removal – without cost to us. We are currently researching this potential source of help. It may be, however, that we will still have to resort to boulders at some point. In the meantime, we are using deeply embedded T-posts in an attempt to thwart transgressors; we pound them in and they remove them. If you are interested in donating to this campaign, learn more or share on social media, you can do so at https://www.gofundme.com/unexpectedwildlife.
---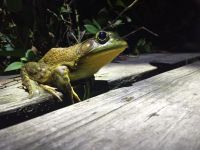 Bullfrogs at the Refuge
In the nightly chorus of frogs and toads, the bullfrog is our basso profundo. The bullfrog and the green frog have very different songs, but are frequently visually confused with each other. The easiest way to distinguish them is to look at the glandular fold, the ridge running right by the eye down to the frog's tympanum ('ear drum'). In bullfrogs, like this one crossing one of our boardwalks, it is curved around the ear drum. On green frogs, this ridge goes straight down the back. Our ponds are rich with bullfrogs, green frogs and many others, a real treat to see during the daylight and hear at night.
---
If you are in Millville, New Jersey, this September...
A selection of co-founder Hope Sawyer Buyukmihci's watercolor paintings of wildlife at the Refuge will be on display for the entire month of September on the walls of Wildflower Vegan, a vegan cafe in Millville, NJ. The displayed prints will be available for sale on site. All money raised will go to support the Refuge. Wildflower is located at 501 North High Street; telephone 856.265.7955.
---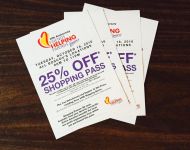 Helping wildlife and the Refuge today
One way to help the Refuge is to use our Boscov's "Friends Helping Friends" shopping passes while this campaign is in effect. For five dollars, you get one 25% off shopping pass good for almost anything in the store (cosmetics and electronics are 15 and 10 percent off respectively) on the Friends Helping Friends shopping day, the 18th of October. Not only is this a good way to help the Refuge, the cost to you of each coupon can be recouped with just one purchase. There is no limit on the number of coupons that can be purchased from us and used and they are good at all Boscov's stores across the country. If you are nearby, you can visit us at the Boscov's store in Vineland, NJ, on the following dates to pick up your passes:
Friday, August 19 from 5 until 9 PM
Sunday, September 18 from 10 AM until 2 PM
Sunday, October 16 from 11 AM until 2 PM
If you want to buy five or more shopping passes, you can also use our PayPal link on our Web site; be sure to make a note in the optional message field for the number of passes you would like to purchase and your mailing address and we can mail them to you (order early enough to receive the passes by the shopping day of 18th October). All the money raised from the shopping passes goes directly to support the Refuge.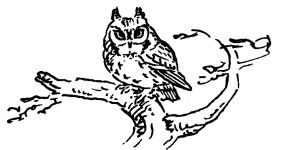 As a reminder, Unexpected has grown from its humble 85-acre beginnings 55 years ago to nearly 800 protected acres today. This Refuge is home and sanctuary for hundreds of animal and plant species; many of the animal species have been here for generations. We depend entirely on the support of our donors; we do not receive lucrative government grants because we would not allow the type of 'strings' attached to these that would force us to permit 'recreational' hunting, fishing or other exploitative activities. We – and the wildlife – could not exist without you. We know that you have limited resources and need to consider which of numerous worthwhile causes to support. We hope, however, that you can find it possible to give us a donation – today – of any amount. We need your support right now. Our small operating costs continue to exceed our donations. In addition to schemes like the Boscov's passes, there are many other ways to support us; go to our Help Us page on our Web site for more.
---
Helping wildlife and the Refuge in the future
Please remember Unexpected Wildlife Refuge when planning your will and estate. It is an easy, effective and lasting way to help the Refuge... and wildlife. When talking with your estate planner, just provide them with our name, address and tax identification number (23-7025010). This is one of the most important gifts the Refuge can receive. If you have already included us in your future plans, thank you!
---
Our newsletters are the result of a team effort involving people dedicated to protecting wildlife in general and furthering the Refuge in particular:
Nedim C. Buyukmihci, story contributor and editor
Linda Buyukmihci-Bey, copy editor
Veronica Van Hof: story and photo contributor
Unexpected Wildlife Refuge
Mailing address: P.O. Box 765, Newfield, NJ 08344-0765
Web site: http://unexpectedwildliferefuge.org/
E-mail: manager@unexpectedwildliferefuge.org
Telephone: 856.697.3541
Facebook: https://www.facebook.com/UnexpectedWildlifeRefuge
Instagram: https://www.instagram.com/Unexpected_Wildlife_Refuge/