Beaver Tales from Unexpected Wildlife Refuge, August 2017
Here is our latest newsletter to keep you informed about just a few of the activities and issues concerning Unexpected Wildlife Refuge. For those of you who follow us on
Facebook
or regularly visit our News page on our Web site, some of these items may be redundant, but are repeated here for others.
You can see enlarged versions of almost all images in our newsletters by simply clicking on the provided thumbnail copies.
---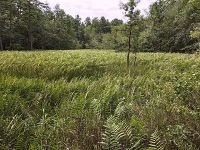 Joining forces with local groups for the health of intermittent ponds
I recently joined up with the New Jersey Department of Environmental Protection, the Pinelands Commission and the Pinelands Protection Alliance under a grant given to the Pinelands Commission to study the health of vernal ponds (see image for one of the study areas) in the Pine Barrens. Also known as intermittent ponds or pools, vernal ponds are an essential wetlands habitat. Containing water only part of the year, these pools cannot support populations of animals or plants dependent on a year-round supply. They are, however, a vital mating, nesting and hatching site for a host of obligate species – species that can survive only in vernal ponds, including a variety of invertebrates and amphibians. We met up with a group of dedicated volunteers, including Jason Howell and Mike Kaliss (shown with me in the other image), to start an extended study of the impact of off-road vehicle use on the ponds and to make general health assessments of these important areas.
---
Frequent summer rains bring a variety of diverse funguses to the surface
What we see as mushrooms are the above-ground, fruiting body of a larger underground organism. Mushrooms often become numerous after abundant rain. Recently, the precipitation at the Refuge was followed by some beautiful examples including species of the chanterelle group of fungi: the horn of plenty mushroom, cinnabar and golden chanterelles. The golden chanterelle was found knocked over, so I moved it to a table to get the photo. There were also many species of coral fungi, such as the crown-tipped in the image. After I saw the blusher mushrooms (Amanita amerirubescens) on day one, I came back the next day to document the rapid change in form that was part of their growth cycle.

Horn of plenty mushroom

Cinnabar chanterelle

Golden chanterelle

Crown-tipped coral

Blusher mushrooms 1st day

Blusher mushrooms 2nd day
---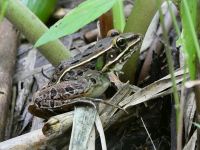 Northern leopard frogs fill the Refuge with their 'cheerful' chorus
One of my favorites among the many local frog songs is the call of the northern leopard frog. I hear the frogs' voices almost constantly – often close by – on my walks along the main pond, but very rarely see these stunning little amphibians. Recently, I was fortunate to spot the frog in the photo, on the side of the main pond, and was able to slowly and quietly get close enough to take her or his picture – my first in two seasons! By the way, I characterize the frogs' songs as 'cheerful', but I admit that description probably mostly applies to how they make me feel.
---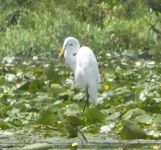 Great egrets back at the Refuge for another summer
The Canada geese are typically the 'watch dogs' of the main pond, often alerting us to interlopers near the water with their raucous call. Did you know that great blue herons are similarly disposed to raising an alarm over certain intrusions? But, what does this have to do with the subject of great egrets, you ask? Some time ago, I heard a heron sounding quite irritated and darted outside to see what was happening. A great egret had had the temerity to 'invade' the waters the heron deemed to be her or his domain. The heron was apparently making sure all within listening distance were apprised of the unwelcome nature of this intruder. Things have since calmed down a bit and everyone is now sharing the popular fishing spot – in peace, or so it seems.
---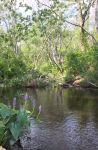 A fantastic volunteer day: More trail protections have gone up
We recently put out a call to volunteers to help us bolster the protections to the entrances leading to one of the wetlands at the Refuge (see photo). As you may remember, we have had problems with off-road vehicle use on our trails. Miscreants (that is the most civil term I can use) continue to drive their dirt bikes and all-terrain vehicles through the sensitive wetland areas, tearing up vegetation, topsoil and the substrate of the water. It occurred to us that we could put to good use some of the trees which were felled during the small wildfire that occurred last year. Volunteers traveled as much as two hours to get here. We set to work hauling downed trees and brush into a major trail, leaving the latter accessible to pedestrians and wild animals, but making it very inconvenient for people with off-road vehicles. Access by these vehicles would require blazing new trails to go around our blockades. Or, the people would have to spend time removing the blocking vegetation. If they try this, it will be time-consuming, possibly allowing me time to catch them in the act so that I can try to reason with them about why their activities are detrimental to the protected habitat, animals and plants of the Refuge.

The photo of volunteers shows, from left to right, Jason Howell (Pinelands Protection Alliance), Bob Cunningham and Mike Kaliss. We thank them and all the others who came out!
---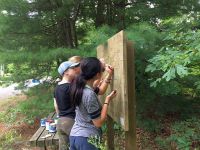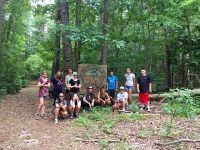 A visit with the kids from YMCA Camp Ockanickon
We recently enjoyed a volunteer day with the kids from YMCA Camp Ockanickon (Medford Township, New Jersey). The kids came out for hours of trail work, clipping brush and cleaning fallen branches from the trails. One group went to work repainting our wooden trail-map sign. Due to years of weathering, the paint on the map had become faded making the trails illegible. The marked trails are now bright and easy to read. This sign is not just helpful for visitor orientation. People can take a photo with their cell phones and use that as they navigate our trails. Thanks, Camp Ockanickon, for spending the day with us!
---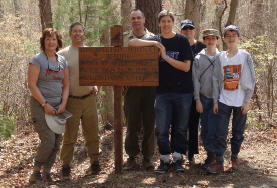 Volunteer projects for individuals, Scouts and other groups
Please remember that we always have something that needs to be done at the Refuge and can benefit greatly through your help. Installing signs, trail work and other projects are perfect for Scout and other volunteer groups. If you want to spend a few hours trimming vegetation on our trails, removing old barbed wire from our original boundary fences, clipping back hedges or making signs, let us know!
---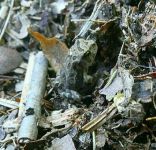 Baby Fowler's toads ... everywhere
For those of you not familiar with toad biology: Although amphibians, toads spend a large part of their life on dry land. During mating season, they seek water where they lay and fertilize their eggs. The resulting tadpoles have gills and obtain their oxygen from the water similarly to frogs and fish. Once they undergo metamorphosis to their adult form, they leave the water and begin searching for food, shelter and their dry-land homes. When this occurs, the ground around the main pond becomes crowded with hundreds of these tiny individuals. Seeing these little ones hopping all over the place is a real treat despite having to be very careful not to tread on them!
---
White-tailed deer get close
While sitting at the edge of the main pond, I recently watched a white-tailed deer browsing the water lily plants near the shore. Minutes later, a second deer emerged from the woods some distance apart from the first. The first deer looked up and, minute by minute, moved herself closer until the two were companionably side-by-side enjoying a late-afternoon snack together. It was a touching reminder that our wild neighbors have the same needs as we do for friends and companionship.
---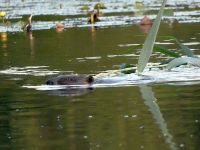 Local beaver family update
A short while ago, I watched all the members of the local beaver family on an outing together in the main pond, a sight I see very rarely. I counted two adults and four kits, all swimming in a large circle, stopping occasionally to nibble on an aquatic plant. Here, one of the adults had cut down a large reed and was swimming with it to the boardwalks, for a purpose known only to her.
---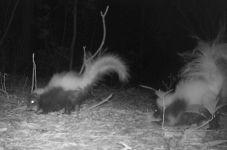 Skunk baby season
It has been a very rainy summer so far at the Refuge, so the trail cameras have been moved inside and not seen a lot of action. We were really delighted by what we found in one camera before its temporary retirement: two skunk kits, digging in the ground for their dinner. We think it is likely that they are siblings. They spent their foraging excursion side-by-side.
---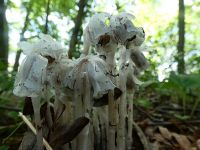 The year for Monotropa uniflora
I rarely find this 'ghostly' plant which is often mistaken for a fungus. Known colloquially as Indian pipe, ghost plant, corpse plant and other iterations of these names, Monotropa uniflora lives by utilizing energy drawn from nearby trees via the use of local mycorrhizal fungi. It does not photosynthesize, hence its otherworldly translucent and pale appearance. This year, this beautiful, small plant has been out in force. The photo shows a patch of these delicate plants near one of the Refuge trails, one of the largest I have ever seen.
---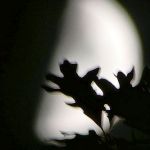 Waxing moon over the main pond
I walked outside one recent evening to try to photograph the rising, waxing moon over the main pond at the Refuge. As the moon appeared, it created a silhouette of some oak leaves hanging far out on their branch. A lovely sight, even if not precisely what I wanted.
---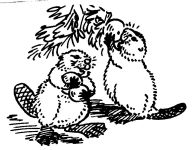 Continuing reminder about helping us help wildlife today
This Refuge and its nearly 800 acres of rigorously protected habitat, is home and sanctuary for hundreds of animal and plant species; many of the animal species have been here for generations. We depend entirely on the support of our donors for our day-to-day expenses! The Refuge – and the wildlife living here – could not exist without you. We know that you have limited resources and need to consider which of numerous worthwhile causes to support. We hope, however, that you can again find it possible to give us a donation – today – of any amount. We need your support right now. Our small operating costs continue to exceed our donations.
---
Helping wildlife and the Refuge in the future
We remind you to please remember Unexpected Wildlife Refuge when planning your will and estate. It is an easy, effective and lasting way to help the Refuge... and wildlife. When talking with your estate planner, just provide them with our name, address and tax identification number (23-7025010). This is one of the most important gifts the Refuge can receive. If you have already included us in your future plans, thank you!
---
Our newsletters are the result of a team effort involving people dedicated to protecting wildlife in general and furthering the Refuge in particular:
Nedim C. Buyukmihci, story contributor and editor
Linda Buyukmihci-Bey, copy editor
Veronica Van Hof: story and photo contributor
Unexpected Wildlife Refuge
Mailing address: P.O. Box 765, Newfield, NJ 08344-0765
Web site: http://unexpectedwildliferefuge.org/
E-mail: manager@unexpectedwildliferefuge.org
Telephone: 856.697.3541
Facebook: https://www.facebook.com/UnexpectedWildlifeRefuge
Instagram: https://www.instagram.com/Unexpected_Wildlife_Refuge/