Beaver Tales from Unexpected Wildlife Refuge, December 2017
Here is our latest newsletter to keep you informed about just a few of the activities and issues concerning Unexpected Wildlife Refuge. For those of you who follow us on Facebook or regularly visit our News page on our Web site, some of these items may be redundant, but are repeated here for others.

You can see enlarged versions of almost all images in our newsletters by simply clicking on the provided thumbnail copies.
---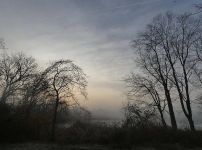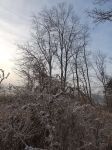 First frost at the Refuge
Although eventually warming up to almost 60°F, the first day of our annual "Six-Day Firearm Season" deer protection patrol coincided with the first frost of the year. The view was absolutely stunning (you had to be there – photos could not do justice), coupled with the gray-white fog that hung low over the main pond and adjacent trails.
---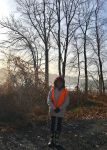 Annual deer protection patrol under way
Although we recently sent out a call for volunteers, this is a reminder in case you missed that message. For decades, we have patrolled our boundary during the annual New Jersey 'deer season' in an effort to keep hunters from crossing the property lines into the Refuge. Donning blaze orange and heading out into the woods, often at the break of dawn, our volunteers are dedicated to helping us keep the Refuge – and its occupants – safe. Pictured is Mary Ann Gurka, who frequently volunteers year-round and who was our first volunteer at the start of the New Jersey "Six-Day Firearm Season". Because hunters come out in droves at this time, we are kept busy on patrol. The white-tailed deer in the photo is just one of those whom we hope to keep safe.

If you could not make it this year for the 'deer season' patrol, we still need volunteers for other 'seasons'. Please contact me so we can add you to the schedule: 856.697.3541 or manager@unexpectedwildliferefuge.org.
---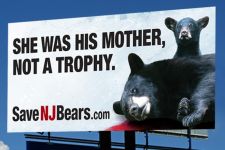 Bears in New Jersey desperately need your help
Since 2000, the BEAR (Bear Education and Resource) Group has worked with three New Jersey governors and stopped eight bear hunts. When Chris Christie was governor, however, the hunt was re-instituted, made longer and included bow and arrow, a vicious and cruel way to attempt to kill an animal. The good news is that Governor-elect Phil Murphy has promised a moratorium on the hunt. This is BIG news for wildlife, but BEAR needs help with their campaign. They have begun erecting billboards (see photo) that read "She was his mother, not a trophy". They have recently managed to place four billboards in busy locations in Bridgewater, Butler, Eatontown and Woodbridge.

BEAR has started a GoFundMe campaign to raise money for additional billboards across the state. Unexpected Wildlife Refuge fully supports BEAR's efforts to protect bears and we ask that you join in this by making a tax-deductible contribution here: http://www.gofundme.com/billboards4bears.
---
It is not too late to help Unexpected with a monthly sponsorship subscription
As part of the vital and globally unique ecosystem that is the Pine Barrens, the Refuge is home to more than 40 endangered and threatened species. We are again asking that you make a pledge to sponsor a Refuge habitat or choose to support one of the species of animals who call this protected land "home". You can easily do this through an automatic monthly PayPal donation. Either go to our Web site and choose the DONATE link at lower left or go directly to the page that has the PayPal link at the top.

Here are the choices you will have:
Wetland habitat: $30.00
Pine forest habitat: $25.00
Bald eagle: $20.00
Beaver kit: $15.00
River otter: $15.00
Eastern box turtle: $15.00
Red fox: $10.00
Your personal favorite: $20.00
All habitats and animals: $60.00
We hope we can count on you for this recurring support!
---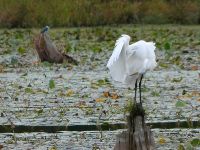 Great egret and belted kingfisher share the main pond
I recently heard the tell-tale clacking calls of a belted kingfisher close by. As I walked to the edge of the main pond to investigate, I saw him land upon a perch across the water. It was a delight to also see that a great egret was preening nearby. These visual 'treats' are a daily reminder of the importance of the Refuge in the broader scheme of wildlife protection.
---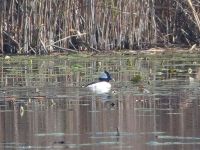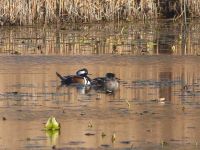 Colorful guests visit the Refuge
Two pairs of migrants visited the main pond recently: a bonded pair of hooded mergansers and a bufflehead couple. I was thrilled to sit and watch these small ducks spending a few days dabbling and peacefully floating on the water, gaining strength and energy before moving on. I was unable, however, to get a photo of the bufflehead couple. Only the male was present when I had the camera and he was too far away to get a clear image.
---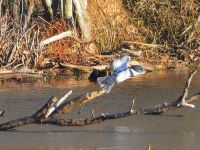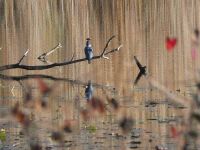 Belted kingfisher on his daily rounds
Last year, I considered myself fortunate if I saw one of these vocal, colorful birds about once a week. This year, the sightings have been virtually on a daily basis, never failing to bring a smile to my face. This male was perched on a branch in the main pond, with a fish he had just caught. He soon took off to then perch high on a tumble of branches in the middle of the pond. Although we feel badly for the fish, we recognize that life amongst non-human animals often involves the death of one in order to sustain the other.
---
Eastern phoebe spends an afternoon in front of the Refuge cabin
One recent, unseasonably warm afternoon, I was working in the porch of the cabin. I noticed an eastern phoebe perched on the antenna of my car nearby. Every time I looked up from my work, he or she flitted between the antenna and a nearby tree. This went on for more than an hour. Those of you familiar with phoebes might question why this one had a pink underside. The reflection from the bright red of my car was obscuring the normal creamy yellow feathers.
---
A bald eagle commands a perfect perch
I was intrigued a short while ago when I noticed a familiar shape out on the main pond, accompanied by a flash of white. Having spent some time observing a family of bald eagles and learning their habits, they were the first to come to mind. I grabbed my binoculars to see if I was right. When I saw the way this eagle had landed – straddling two remaining portions of a tree stump in the main pond – I ran back for my camera so I could capture the image and share it with our readers.
---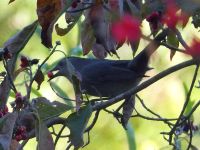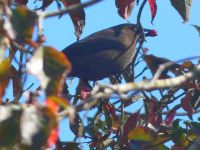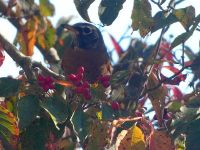 Stocking up on fall berries
The dogwood trees at the Refuge are a beautiful sight for us when in bloom. When the flowers eventually give rise to small, red berries, several species of birds have a feast. Although not pleasant to the human palate, the berries are apparently tasty to the birds who descend in groups. I have noticed that the different species do not forage for the berries at the same time. The photos show an American robin, a rusty blackbird and a catbird, each of whom arrived at different times of the day.
---
Four small turtles basking in the warm, fall sunshine
Sometimes something that is otherwise familiar seems 'off'. This was the case when I cast my gaze on a tree stump protruding from the water in the main pond. The stump seemed 'shinier' than expected. When I used the zoom on my camera, I saw that this was due to four turtles lined up on the stump, basking in the sunshine, with four heads extended. Regardless whether these individuals were eastern painted or red-bellied turtles, I never get tired of seeing them.
---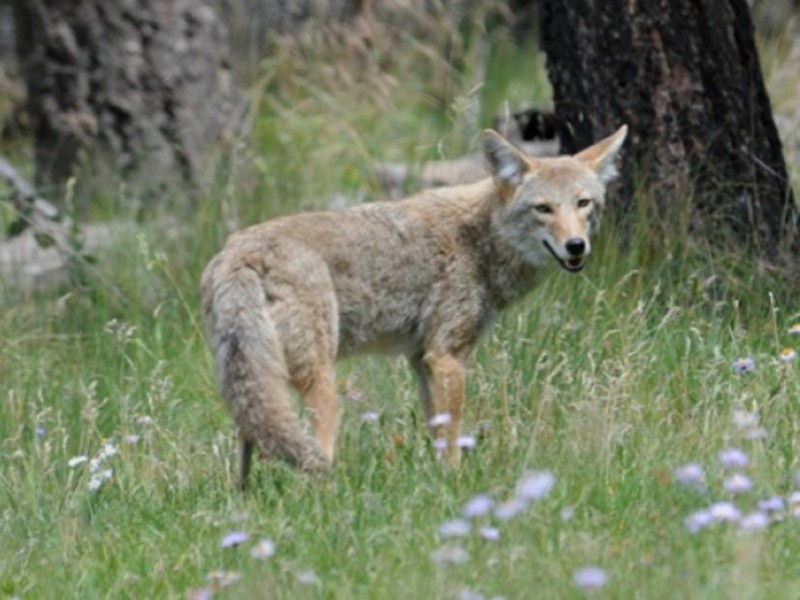 Update on the coyote killings in Saddle River, NJ
We are saddened and frustrated to report that there has been no progress with the dire situation coyotes are facing in Saddle River, New Jersey. Despite public protests and the credible opinions of wildlife experts, the city administrators continue to refuse to rescind the policy to kill coyotes if they are perceived to be a threat. This policy is based on fear, not facts or any demonstration of harm to people. Rather than allowing logic and sound wildlife 'management' principles to guide them, the officials have begun a campaign to convince local residents that lethal 'control' is the only alternative. They are also trying to garner support from neighboring townships for this ill-conceived manner of dealing with a non-threat.

Whether you live in or near Saddle River or elsewhere, it is important that the Saddle River administrators continue to receive pressure from the public to do the right thing and end this tragedy. Please be polite, but firm, and let them know that not only are lethal methods of 'control' inhumane, they are ultimately ineffective. The person to contact is:

Mayor Albert J. Kurpis
Email: drkurpis@saddleriver.org
Phone: 201.327.2609

The Animal Protection League of NJ is organizing a petition of people in and around Saddle River opposed to the killing of the coyotes. You can contact them to lend your support in this effort: 732.446.6808 or info@aplnj.org.
---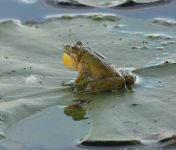 Hold a garage or yard sale to help the Refuge
Like many of us, you may have accumulated a bunch of 'stuff' over the years, stuff that you no longer want. If you are the type who likes to use garage or yard sales to rid yourself of unwanted items, think about doing this with the Refuge as the benefactor. You could promote the sale as a means of protecting wildlife in general and the Refuge in particular. We would be grateful for any proceeds.
---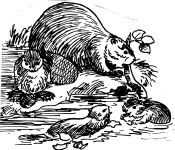 Your unwanted vehicle, another way to help the Refuge
Do not forget that your used or unwanted vehicle can provide funds to us through the CARS vehicle donation program. CARS will accept any vehicle, running or non-running, and offer free towing throughout the United States. Once they have processed and sold the vehicle, they will donate a majority of the proceeds directly to the Refuge.

Call toll-free 855-500-RIDE (855.500.7433) or visit the Refuge CARS page at https://careasy.org/nonprofit/unexpected-wildlife-refuge to participate. Not only does this provide an easy way to be rid of an unwanted vehicle, you will also be helping wildlife at the same time.
---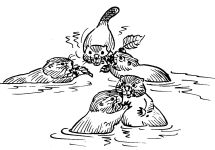 Continuing reminder about helping us help wildlife today
This Refuge and its nearly 800 acres of rigorously protected habitat, is home and sanctuary for hundreds of animal and plant species; many of the animal species have been here for generations. We depend entirely on the support of our donors for our day-to-day expenses! As we approach the end of 2017, we still have not received sufficient donations to cover our nominal budget for the year. We know that you have limited resources and need to consider which of numerous worthwhile causes to support. We hope, however, that you can again find it possible to give us a donation – today – of any amount. We and the wildlife need your support now.
---
Helping wildlife and the Refuge in the future
We remind you to please remember Unexpected Wildlife Refuge when planning your will and estate. It is an easy, effective and lasting way to help the Refuge... and wildlife. When talking with your estate planner, just provide them with our name, address and tax identification number (23-7025010). This is one of the most important gifts the Refuge can receive. If you have already included us in your future plans, thank you!
---
Our newsletters are the result of a team effort involving people dedicated to protecting wildlife in general and furthering the Refuge in particular:
Nedim C. Buyukmihci, story contributor and editor
Linda Buyukmihci-Bey, copy editor
Veronica Van Hof: story and photo contributor
Unexpected Wildlife Refuge
Mailing address: P.O. Box 765, Newfield, NJ 08344-0765
Web site: http://unexpectedwildliferefuge.org/
E-mail: manager@unexpectedwildliferefuge.org
Telephone: 856.697.3541
Facebook: https://www.facebook.com/UnexpectedWildlifeRefuge
Instagram: https://www.instagram.com/Unexpected_Wildlife_Refuge/