Beaver Tales from Unexpected Wildlife Refuge, February 2018
Here is our latest newsletter to keep you informed about just a few of the activities and issues concerning Unexpected Wildlife Refuge. For those of you who follow us on Facebook or regularly visit our News page on our Web site, some of these items may be redundant, but are repeated here for others.

You can see enlarged versions of almost all images in our newsletters by simply clicking on the provided thumbnail copies.
---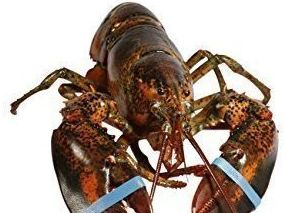 URGENT APPEAL FOR ACTION; write and boycott Amazon
It saddens us to report that Amazon is selling live lobsters and shipping them through the mail. As you likely are aware, from there the fate of these hapless individuals is even worse: to be boiled to death.

Although we have depended on Amazon as a source of reliable and competitively priced items for the Refuge, we are morally bound to discontinue our association with them until they discontinue this despicable and inhumane practice of selling live lobsters (or any live animals). The president of the Refuge has been in contact with senior representatives at Amazon. Unfortunately, Amazon is refusing to listen to experts who are telling them that shipping live lobsters through the mail is inhumane. Instead, they are obstinately defending this immoral practice by claiming that they are not in violation of the law, as if that was the issue. They are clearly more interested in the (minimal) profits made through the abuse of animals than they are in being compassionate and humane. As a result, we have closed our account with Amazon and will no longer do business with them. Nor will we accept any donated items purchased through them. We are urging you to help us in this matter by doing the following:
Write to Amazon at amazon-pr@amazon.com, and voice your strong objection to their selling of live animals and tell them you will boycott them until they stop.
If you have an account with Amazon, please close it and explain why.
Write to Drogo Montagu at wholesale@finefoodspecialist.co.uk and let him know that lobsters are able to feel pain and suffer and that his actions and callousness in selling live lobsters through the mail (using Amazon) have caused you to boycott Amazon in general. Be sure to copy your message to Jeff Bezos, Amazon CEO, at amazon-pr@amazon.com.
You can go to our wildlife myths page for the scientific evidence on the ability of crustaceans such as lobsters to feel pain and suffer.
In the meantime, if you would like to purchase and donate the items we had listed on Amazon through a different source, we encourage you to do so. Here is a list of things we could use; if you have any questions, please let us know (E-mail: manager@unexpectedwildliferefuge.org or telephone: 856.697.3541):
Legal size (8.5 x 14 inches) laser gloss paper (a couple reams would be appreciated)
Replacement color toner cartridges for our Xerox Phaser 6500 printer
SanDisk Ultra 16 GB Class 10 SDHC memory cards
Maasdam Pow'r Pull cable puller ('come-along', winch), 2 ton capacity
Reciprocating saw blade set by DeWalt (DWA4894)
Black & Decker 20 volt cordless drill, driver and saw kit (BD4KITCDCRL)
---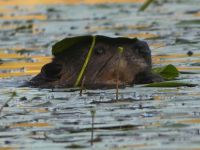 URGENT for New Jersey residents: Your legislators are considering anti-wildlife bills
Two anti-wildlife bills will be up for a vote before New Jersey's legislators soon. The hearings on both bills will be held on Monday, 12 February. The bills could go for a vote as early as Thursday, 15 February.

The first bill is A3242, the Poaching Bill. It would allow the killing of deer as part of forest 'stewardship' and on commercially logged lands. Bait piles could be used at any time of day or night and deer could be killed from vehicles including at night through the use of strong lights to immobilize them.

The second bill is A2731, the Beaver Bill. This would eliminate the 20-animals-per-permit trapping limit and expand the use of body-crushing (Conibear) traps. Many of the animals caught in these traps die a prolonged, agonizing death.

Please write NOW to your Assemblypersons and politely express your outrage concerning these bills. Use the following Web site to find your representative and contact information: http://www.njleg.state.nj.us/members/legsearch.asp. Please also contact Assembly Speaker Craig J. Coughlin at 732.855.7441 or via his contact information on his Web page: http://www.njleg.state.nj.us/members/BIO.asp?Leg=319. Tell him of your opposition to these bills.

For more information, please visit the following link: http://campaign.r20.constantcontact.com/render?ca=94aacd4a-4706-4264-b5ed-e1f9693eeba2&preview=true&m=1112167101597&id=preview.
---
Visit Unexpected at Lines on the Pines
We are once again attending the Lines on the Pines event in Galloway, New Jersey. Lines on the Pines is an annual showcase for New Jersey Pine Barrens artists, authors and craftspeople. If you are local or will be in the area, please stop by and visit our table. In addition to other items, we will have prints of some of Hope Sawyer Buyukmihci's original watercolors and her book, Hoofmarks, for sale. Hope's wildlife coloring sheets, pictured here, will be available for free (a donation would be appreciated).

Lines on the Pines is a free event and will be held at the Stockton University Campus Center, Vera King Farris Drive, Galloway, New Jersey, on Sunday, 11 March 2018 from 11:00 AM until 4:00 PM. For more information, visit http://www.linesonthepines.org/.
---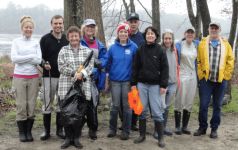 Volunteer for our annual Earth Day Cleanup
Join us this year on Saturday, 14 April at 11:00 AM, for Unexpected Wildlife Refuge's annual Earth Day Cleanup! Armed with gloves and bags, we will meet at the Refuge and walk out to Piney Hollow Road to collect trash along a two-mile stretch that is adjacent Refuge trails. This is an important and long-time event for us – the photo shows our volunteers in 2011 – not only to clean up our environment in general, but also to gather debris before it migrates into the Refuge. We pick up and cut plastic beverage ring holders, particularly hazardous for animals. Items that are recyclable are separated from others for proper disposal. Afterward, we will meet back by the main pond at the Refuge for a vegan lunch. To keep our expenses down, we ask that each volunteer bring one or more vegan items to share with everyone. If we know ahead of time, we can provide a barbecue venue (a bag of charcoal would be appreciated).

To RSVP, E-mail us at manager@unexpectedwildliferefuge.org or call us at 856.697.3541 before April 7.
---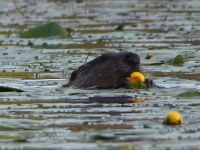 Good news from Wenonah, New Jersey
We reported in February 2017 about our consultation with Wenonah, New Jersey, Environmental Commission, concerning beavers who had built a dam in wetland area. We were successful in getting the people to install a pond-leveler to prevent flooding of nearby facilities. The Commission wrote to us recently and reported: "The beavers are thriving in our small borough and our message to visitors and residents alike is that with a little tolerance and ingenuity, we can all live with wildlife and be the richer for it. Thank you for your good work."

This is a big win for wildlife in general and beavers in particular! We are grateful to Wenonah for acting compassionately on behalf of their wild neighbors and demonstrating that killing wildlife is not necessary for peaceful coexistence.
---
A new initiative by Mike Callahan, beaver advocate
Mike Callahan, founder of Beaver Solutions in Southampton, Massachusetts, is an expert on finding non-lethal methods of solving common human-beaver conflicts. Mike has installed more than 900 flood-control devices and his Web site is a compendium of useful information including humane strategies and sources of humane devices for flood control. He has been a great source of wisdom and experience for us – we are all always learning.

Mike has created a new non-profit entity dealing with beaver issues. Called Beaver Institute™, its mission is "To be a catalyst for advancing beaver management and watershed restoration by providing technical and financial assistance to public and private landowners experiencing beaver conflicts, supporting scientific research, training mitigation professionals, and increasing public appreciation of the beaver's critical role in creating wetland ecosystems." You can read more at the Web site, including a blog that discusses many beaver issues.
---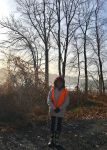 Wrapping up another successful volunteer deer patrol season
During our recent annual deer patrol season, we had temperatures as high as 60°F and as low as 10°F. There was at least one 12-inch snowfall. Dedicated volunteers arrived in T-shirts or parkas, depending on the day!

Thank you, as always, to our volunteers. You keep the Refuge safe. If you were unable to make it this season, please know that we will appreciate your help later this year, when hunters once again take to the woods and fields. Of course, we have numerous other volunteer opportunities that go beyond patrolling, such as our upcoming annual Earth Day Cleanup mentioned above. Contact us to learn more.
---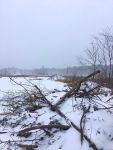 Frozen main pond allows a unique opportunity
This was the first winter in three years with a sufficient number of below-freezing days to create a thick surface of ice on the main pond. Ever mindful to minimize disturbing the inhabitants, I was able to walk across the pond to the beaver lodges on the opposite side. Soon after, we had several days of warmer weather and the ice was gone.

One photo is of the largest (foreground) of the three local lodges, with a second lodge and adjacent food 'raft' (to the left) in the background. The second photo is of the food 'raft' associated with the largest lodge. Beavers work very hard preparing their lodges for winter, filling small cracks and holes with mud and sticks. They also prepare food stores – the 'rafts' – above and below the waterline so that they can easily and conveniently find food during times when they 'awaken' and are hungry.
---
Sunset on the frozen main pond
Here is a sunset view of the main pond from the walkways. The days had been cold enough to form a sheet of ice over the pond. Then a layer of snow accumulated. With the various tree stumps protruding, the combination of things gave the pond a desert landscape appearance.
---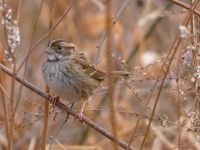 White-throated sparrow alongside the trails
I was lucky enough to capture this image of a white-throated sparrow perched in a shrub near the trails on a sunny day last December at the Refuge. Although this species breeds mostly in Canada, they are seen here and other places in the US during the winter.
---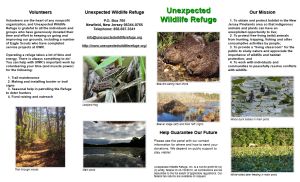 New color leaflet about the Refuge available for download
We have a new color leaflet summarizing what the Refuge is. We plan to use it at various events we sponsor or attend. You can help us by downloading, printing and distributing the leaflet elsewhere. The leaflet fits on a legal size sheet of paper (8.5 x 14 inches or 216 x 356 mm), printed double-sided in landscape orientation and folded twice so that the panel with our name in green is at front. Click here to see and obtain the file (about 2 MB).
---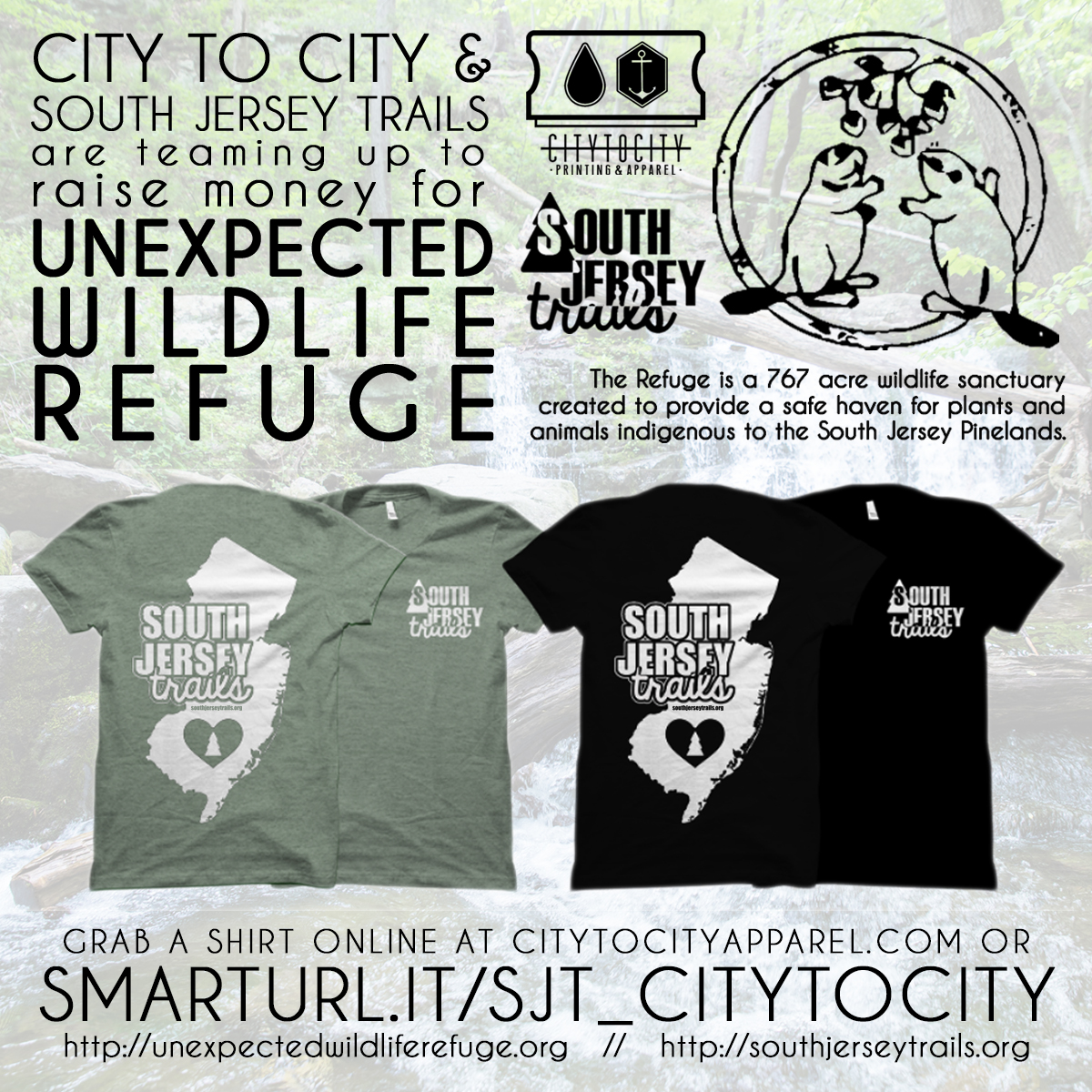 A visit, a review and a fundraiser by Mike McCormick
Mike McCormick, founder of South Jersey Trails (SJT), was thinking creatively when he offered a new fundraiser to benefit the Refuge. He recently had a limited-run printing of his SJT T-shirts and donated all the proceeds to Unexpected! Mike had this to say about UWR on his Web site, where he reviews hiking spots all around South Jersey:
"...we also found one of the coolest and most adventurous trail systems in all of South Jersey, where the trails don't mosey around the edge of swamps, they simply plunge straight through them. And it's amazing...This is a special place, and this post is waaaaaay more open ended than usual, because half the fun of this place is EXPLORING and DISCOVERING it."
To read more and to view some of Mike's photos from Unexpected, visit https://southjerseytrails.org/.

Thank you, Mike!
---
Another creative way to help the Refuge
Eric Baratta, shown here after helping during our annual Earth Day Cleanup last year, is a long-time volunteer and supporter of the Refuge. For his recent birthday celebration, he asked his friends and relatives to donate money to the Refuge in lieu of presents to him. This innovative and generous action on the part of Eric provided much-needed funds for our operations.

We hope others will follow in the footsteps of Eric and consider the Refuge as the beneficiary for birthdays and similar events.
Thank you, Eric!
---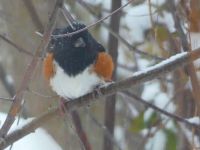 Eastern towhee on a snowy day
An eastern towhee sits in a snow-covered shrub during a snowfall last December. Although I often hear these little birds in the undergrowth, I rarely get to see them and this was a treat to behold. Maybe one day I will be lucky enough to video their unusual two-footed scratching technique when they are searching for food amongst fallen leaves.
---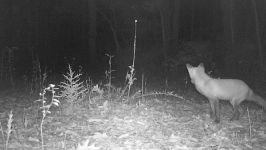 Alert red fox 'poses' for our trail camera
We found this wonderful night-time image of a red fox in one of our trail cameras last October. He or she appeared to be listening to someone in the treeline, probably with the intent of having a meal. Of course, it could have been just a rustling of leaves due to a breeze.
---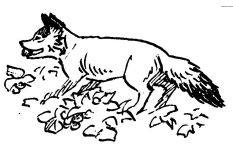 Your unwanted vehicle, another way to help the Refuge
Do not forget that your used or unwanted vehicle can provide funds to us through the CARS vehicle donation program. CARS will accept any vehicle, running or non-running, and offer free towing throughout the United States. Once they have processed and sold the vehicle, they will donate a majority of the proceeds directly to the Refuge.

Call toll-free 855-500-RIDE (855.500.7433) or visit the Refuge CARS page at https://careasy.org/nonprofit/unexpected-wildlife-refuge to participate. Not only does this provide an easy way to be rid of an unwanted vehicle, you will also be helping wildlife at the same time.
---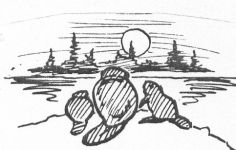 Continuing reminder about helping us help wildlife today
This Refuge, and its nearly 800 acres of rigorously protected habitat, is home and sanctuary for hundreds of animal and plant species; many of the animal species have been here for generations. We depend entirely on the support of our donors for our day-to-day expenses! We know that you have limited resources and need to consider which of numerous worthwhile causes to support. We hope, however, that you can again find it possible to give us a donation – today – of any amount. We and the wildlife need your support now.
---
Helping wildlife and the Refuge in the future
We remind you to please remember Unexpected Wildlife Refuge when planning your will and estate. It is an easy, effective and lasting way to help the Refuge... and wildlife. When talking with your estate planner, just provide them with our name, address and tax identification number (23-7025010). This is one of the most important gifts the Refuge can receive. If you have already included us in your future plans, thank you!
---
Our newsletters are the result of a team effort involving people dedicated to protecting wildlife in general and furthering the Refuge in particular:
Nedim C. Buyukmihci, story contributor and editor
Linda Buyukmihci-Bey, copy editor
Veronica Van Hof: story and photo contributor
Unexpected Wildlife Refuge
Mailing address: P.O. Box 765, Newfield, NJ 08344-0765
Web site: http://unexpectedwildliferefuge.org/
E-mail: manager@unexpectedwildliferefuge.org
Telephone: 856.697.3541
Facebook: https://www.facebook.com/UnexpectedWildlifeRefuge
Instagram: https://www.instagram.com/Unexpected_Wildlife_Refuge/