Beaver Tales from Unexpected Wildlife Refuge, October 2017
Here is our latest newsletter to keep you informed about just a few of the activities and issues concerning Unexpected Wildlife Refuge. For those of you who follow us on
Facebook
or regularly visit our News page on our Web site, some of these items may be redundant, but are repeated here for others.
You can see enlarged versions of almost all images in our newsletters by simply clicking on the provided thumbnail copies.
---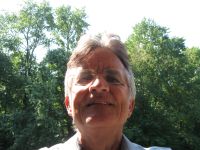 New Trustee appointed to Refuge Council
We are pleased to announce that David Sauder has agreed to serve as a Trustee. Dave brings with him many decades of experience in non-human animal advocacy. He has been a long-time supporter of the Refuge and has spent time patrolling with Hope Sawyer Buyukmihci, co-founder.
---
The fragile plants and animals who exist only in the Pine Barrens need your help
As part of the vital and globally unique ecosystem that is the Pine Barrens, the Refuge is home to more than 40 endangered and threatened species. Please make a pledge to sponsor a Refuge habitat or choose to support one of the species of animals who call this protected land "home". You can easily do this through an automatic monthly PayPal donation. Either go to our Web site and choose the DONATE link at lower left or go directly to the page that has the PayPal link at the top.

Here are the choices you will have:
Wetland habitat: $30.00
Pine forest habitat: $25.00
Bald eagle: $20.00
Beaver kit: $15.00
River otter: $15.00
Eastern box turtle: $15.00
Red fox: $10.00
Your personal favorite: $20.00
All habitats and animals: $60.00
| | | |
| --- | --- | --- |
| Muddy Bog | Bald eagle | Beaver |
| River otter | Eastern box turtle | Red fox |
---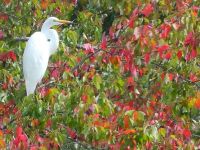 Autumn colors are on display
Although autumn has been a little late getting here – it was 80° Fahrenheit when I was typing this – the leaves on the trees and shrubs have now been changing to their glorious fall colors. Recently, a great egret perched among some of the just-turning fall foliage on a limb overhanging the main pond.
---
Threatened eastern box turtles at the Refuge
As you have read above, we have included the eastern box turtle as one of our sponsorship animals. While volunteering recently, Chris Tlapa took this photo of one at the Refuge. A threatened species due to habitat loss and fragmentation, affected turtles, already vulnerable due to slow reproduction, have difficulty finding food and mates. Eastern box turtles spend their entire lives in a single, small, limited geographical area. As with all turtles, if you find one crossing the road, please stop and help them along their way. Pick them up by the sides of their shell and move them to the other side of the road in the same direction of travel. Never try to 'help' turtles by relocating them to another area – they are loyal to their home and can die trying to find their way back.
---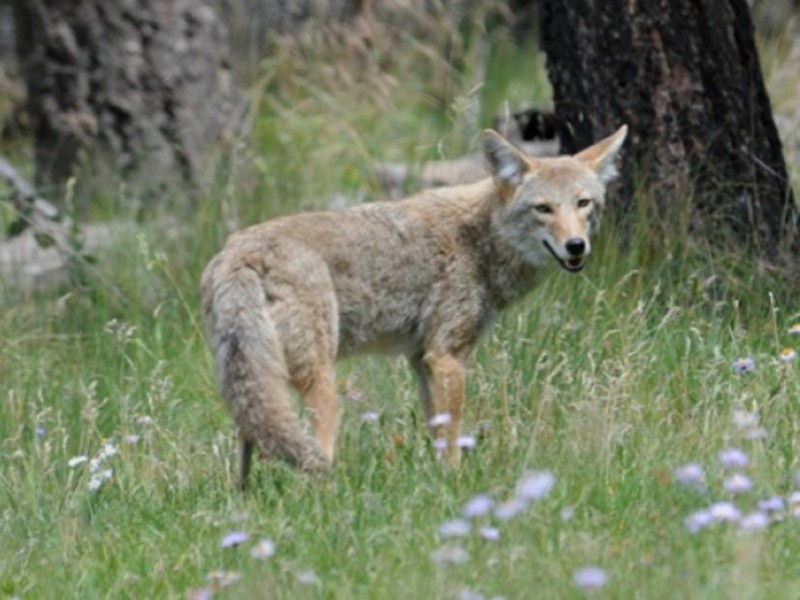 Saddle River, NJ, mayor authorizes police to shoot local coyotes
The mayor of Saddle River, New Jersey, recently authorized the shooting of coyotes if they posed a "threat". This edict was not based on any documented harm to people, only on the possibility that there might be a problem. It is well-known that coyotes generally are fearful of and avoid people. The reason that they are showing up in residential areas is largely because people either purposefully feed them or leave food where it is accessible to them. At least five coyotes have already been killed as of writing this. Killing fails to address the root issues involved and leads to an increase in reproduction and fecundity, which we assume is counterproductive to the aims of the mayor. As long as people feed or provide food – even if inadvertently, including allowing cats or small dogs to roam unsupervised outdoors (to coyotes, these individuals are 'food') – or otherwise encourage them, coyotes are likely to enter residential areas. The city should provide for substantial fines or other penalties in these situations. Further, the current policy has no basis in fact and may be acted upon due to ignorance or misinterpretation of normal coyote behavior.

We and the Wild Dog Foundation, Mineola, New York, have reached out to the mayor, urging him to rescind this inhumane and ineffectual policy, but have received no response from Saddle River authorities. Please join us in politely asking Mayor Albert J. Kurpis to abandon lethal methods of 'resolution' and, instead, work with responsible and knowledgeable wildlife experts to draft a policy on how his constituents can discourage coyotes from coming into the city. Violence against nature is never the morally defensible answer.

Mayor Albert J. Kurpis
Email: drkurpis@saddleriver.org
Phone: 201.327.2609
---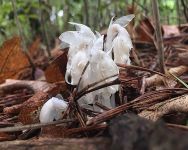 Indian pipes again
Okay, I know some of you will 'accuse' me of repeating myself because I had a story about Indian pipes last time. It is just that the photo here was so striking, I felt it was worth being somewhat repetitive so that I could share it with you. As I had noted, in a typical year, I find only a few small patches of this beautiful plant. This year, the Refuge has been flush with stunning groups of Indian pipe flower such as this one. One of my personal favorite plants, the Indian pipe (Monotropa uniflora) lives by utilizing the energy of nearby funguses and does not photosynthesize.
---
Great blue heron watching over main pond
A great blue heron, one of our favorite birds to watch, stands on a stump in the main pond, wet from a recent fishing foray.
---
Virginia opossum baby visits
Late one evening, a friend and I heard a tapping on one of the windows. We initially dismissed it as the sound of a very large insect outside – the cicadas and praying mantises have been very active lately. The sound seemed to become insistent, however, and I opened the curtain thinking I would be freeing an insect. Instead, I came face-to-face with this baby opossum, who apparently had climbed a tall pokeweed next to the cabin and clambered onto the living room window. I was able to gently encourage him down and he took off into the night.
---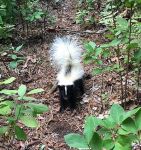 A 'near miss' with a baby skunk
I recently came across this young skunk on a trail not far from the main pond. After our initial surprise at this encounter, we spun around and walked in opposite directions, the skunk to avoid this huge 'predator', I to avoid being 'anointed' in essence of skunk. He or she might have been one of the siblings we reported on last time, photographed by a trail camera a few days prior to this meeting.
---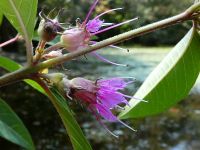 A pop of color at Muddy Bog
Muddy Bog at the Refuge is one of the most visually delightful places to visit while hiking the trails. There is an abundance of green, from the darkest moss to the lightest grasses and sedges and the shiny, green backs of frogs visible above the waterline. As exciting as these are, I was delighted to see an additional and striking color: a bloom of beautiful violet swamp loosestrife growing at the edge of the sphagnum.
---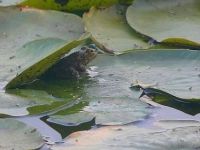 A green frog hides from a heron
One recent evening, I was watching this small green frog on the main pond at the Refuge. As a great blue heron flew overhead, squawking loudly, this little guy hustled himself backwards to be under the protection of a large lily pad where he sat watchful until the sun set.
---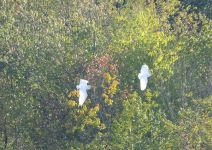 Great egret pair spending their days at the Refuge
These two great egrets have been spotted frequently over the last few months, sometimes alone, sometimes together. Here, they fly past the tree line, like living origami.
---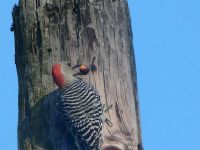 Red-bellied woodpecker and acorn-cracking skills
While preparing stories for this edition of the newsletter, I was thrilled to see a red-bellied woodpecker fly past the cabin. She landed in a nearby oak tree, plucked an acorn from a branch and flew to a sturdy wooden pole next to the cabin. Finding a crevice in the pole, she pushed in the acorn and proceeded to pound against it with her beak until the acorn split. Although we are 'amazed' when mere animals display this sort of ingenuity, it would behoove us to not be so arrogant and accept that there is a difference in degree, not kind between people and other animals in general.
---
A beaver opines on my presence
I thought I was unobtrusively photographing the local beaver family in the main pond. Apparently, one of the beavers thought differently and gave a loud warning slap with her tail before disappearing beneath the surface of the water. I was fortunate to be able to catch the brilliant splash she created.
---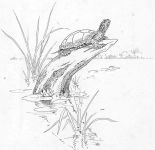 Your unwanted vehicle, another way to help the Refuge
We are pleased to announce that we have a new way for you to support the Refuge. Your used or unwanted vehicle can provide funds to us through the CARS vehicle donation program. CARS will accept any vehicle, running or non-running, and offer free towing throughout the United States. Once they have processed and sold the vehicle, they will donate a majority of the proceeds directly to the Refuge.

Call toll-free 855-500-RIDE (855.500.7433) or visit the Refuge CARS page at https://careasy.org/nonprofit/unexpected-wildlife-refuge to participate. Not only does this provide an easy way to be rid of an unwanted vehicle, you will also be helping wildlife at the same time.
---
Continuing reminder about helping us help wildlife today
This Refuge and its nearly 800 acres of rigorously protected habitat, is home and sanctuary for hundreds of animal and plant species; many of the animal species have been here for generations. We depend entirely on the support of our donors for our day-to-day expenses! As we begin the 4th quarter for 2017, we have so far received donations that cover only a small fraction of the nominal budget for the year. We know that you have limited resources and need to consider which of numerous worthwhile causes to support. We hope, however, that you can again find it possible to give us a donation – today – of any amount. We and the wildlife need your support now.
---
Helping wildlife and the Refuge in the future
We remind you to please remember Unexpected Wildlife Refuge when planning your will and estate. It is an easy, effective and lasting way to help the Refuge... and wildlife. When talking with your estate planner, just provide them with our name, address and tax identification number (23-7025010). This is one of the most important gifts the Refuge can receive. If you have already included us in your future plans, thank you!
---
Our newsletters are the result of a team effort involving people dedicated to protecting wildlife in general and furthering the Refuge in particular:
Nedim C. Buyukmihci, story contributor and editor
Linda Buyukmihci-Bey, copy editor
Veronica Van Hof: story and photo contributor
Unexpected Wildlife Refuge
Mailing address: P.O. Box 765, Newfield, NJ 08344-0765
Web site: http://unexpectedwildliferefuge.org/
E-mail: manager@unexpectedwildliferefuge.org
Telephone: 856.697.3541
Facebook: https://www.facebook.com/UnexpectedWildlifeRefuge
Instagram: https://www.instagram.com/Unexpected_Wildlife_Refuge/